Welcome Home
BURNT JACKET SHORES AT MOOSEHEAD LAKE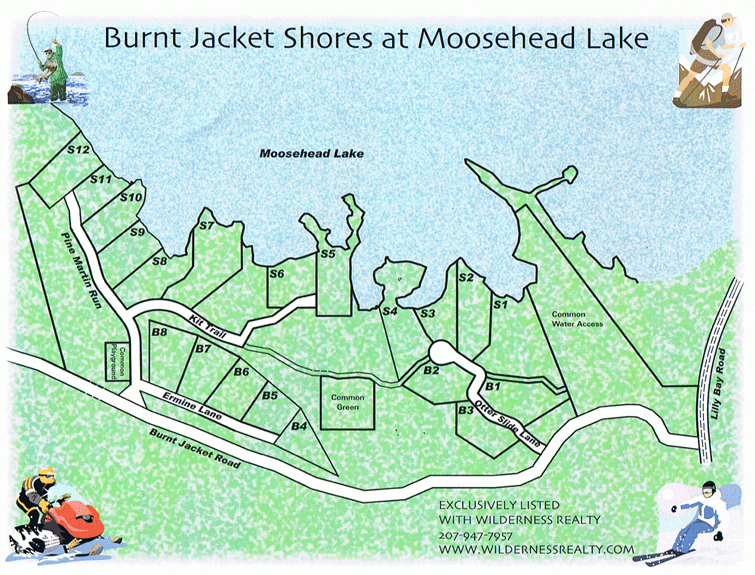 COMMUNITY
Exclusive lakeside community on the shores of Moosehead Lake in the town of Beaver Cove, Maine. Shore properties include a generous amount of bold frontage on Moosehead Lake affording island & mountain views. Woodland sites are tucked away in the lush Maine forest. Homesites are large in size and sited in community groups separated by ample green space affording a design layout unique to the area. Sprinkled throughout the development are common areas with amenities which are joined by a trail system making the entire development pedestrian friendly.
LOCATION
The most intriguing aspect of this lakeside community is its location—sleepy Beaver Cove. Access is by black top-road except for a short section of recently upgraded gravel road. Bangor International Airport is under a two hour drive and the Portland Jetport is less than three hours by vehicle. Greenville is a scant 6 miles away with charter air services at a municipal airport and three seaplane ports.
CIVILIZATION
The Town of Greenville is the service center for the Moosehead Region with restaurants, shops, a grocery store, hospital, building supply store, hardware store, cruise ship, boat rentals and more. The Town sponsors several events that are well attended including a fireworks display, summer concerts, an ice-fishing derby, an annual sea plane fly-in and snowmobile ride-in. The Burnt Jacket sites are far enough away from any hustle and bustle yet are an easy drive to town.
WILDERNESS
Just outside of Beaver Cove lies a vast panorama of forest-clad mountains dotted with lakes and ponds. There are plenty of outdoor activities to accommodate the timid as well as the more adventurous. Several hiking trails wind their way to surrounding mountain summits affording spectacular views. Hunting, fishing and snowmobiling are old-time traditional favorites. Kayaking, mountain biking wildlife watching and cross country skiing are "New Age" pursuits gaining in popularity.
EXCLUSIVE
Residential development is allowed in only a few places on Moosehead Lake. Over 40% of its lakefront is owned and kept forever wild by the State of Maine. Another 30% of the shorefront is protected by State regulations. The Burnt Jacket Shores project has been carefully planned and reviewed to allow for a limited number of homesites to fit harmoniously with the natural environment.
VALUE
Several safeguards are in place making Burnt Jacket Shores a sound investment. Moosehead is Maine's largest Lake. Its pristine beauty and quiet solitude are unmatched in the Northeast. Its desirable location and easy access by millions make this lakeside community a once in a lifetime property to own. To preserve this value, a well crafted Property Owners Association is in place providing a mechanism for maintenance and private use of the access roads, amenities and green space.
AMENITIES
All properties have:
Access to power either along the various access roads or at driveway entrances.
Phone access.
Deeded access to 3 common areas including beach/launch area on Moosehead Lake.
Membership in both a property and road owners association.
Legal access to a public way (county).
State approval.
FEATURED PROPERTIES
Frequent Updates. Call Broker for Instant Alerts
More Information